Thanks Simon,
I thought of doing it that way, but my sanding board was hitting on the bottom part of the sound hole (bridge side). I didn't see any need to sand all of that area. Maybe a 25' radius is just a tad too sharp.
What thickness of shim do you use at the bridge location?
Anyway, I raised everything up so that area would clear. That way I can concentrate on the area above the soundhole. I got this idea from Jim Olsons website.
Here's his: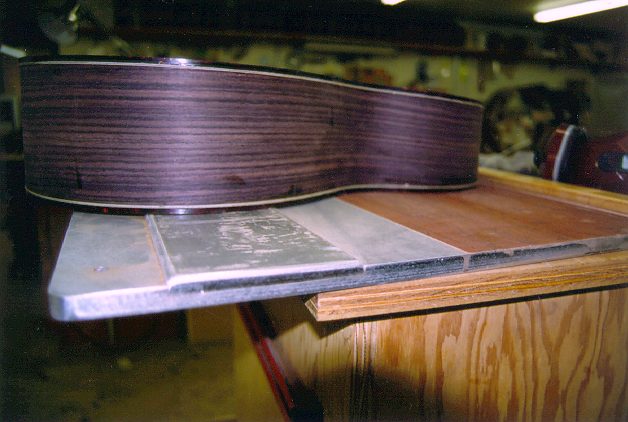 He moves the guitar on his but I'm moving the sandpaper on mine.
There shouldn't be any guesswork involved once I settle on the correct gap at the bridge. It should all depend on the thickness of that center piece of cork.
Does .050" seem like enough???
I've heard that when the fingerboard is on with the frets in, a straightedge on top of the frets should just kiss the top of the bridge. Taking my previous numbers into consideration I calculate .082" gap.
.375 bridge height
-.043 fret height
-.250 fretboard thickness
______
=.082
If .082" is a better number then I'm pretty much there without any sanding, and that would be great.
Terry, I like that idea to get the rimset trued up before hand. Thanks for the link. I radius the ends of my transverse brace but leave it flat in the center.
If I can get this jig set right it should really help me zero in on that angle with repeatable results.
So what do you-all use to get this right?
Thanks again.