It's been a while....I've been busy, but I managed to find time to get the guitar done to show off at the NCAL meeting last Sunday!
Here are some photos of the finishing process, bridge gluing, saddle slot routing, etc. (click on any of the pictures to see the hi-res versions):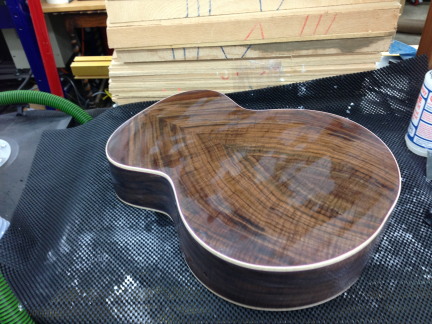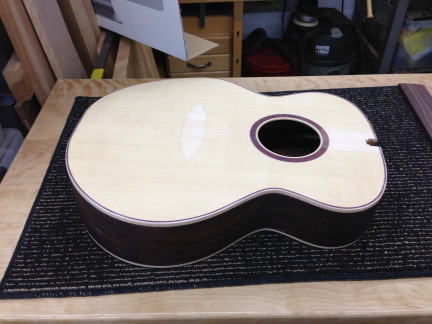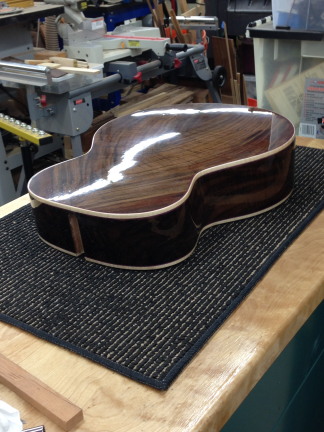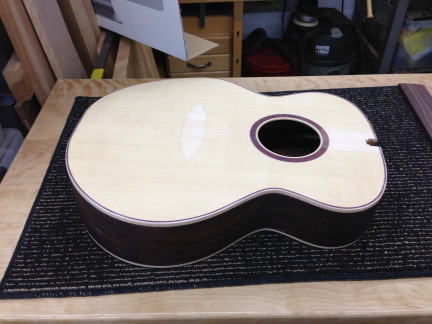 Bridge being glued on: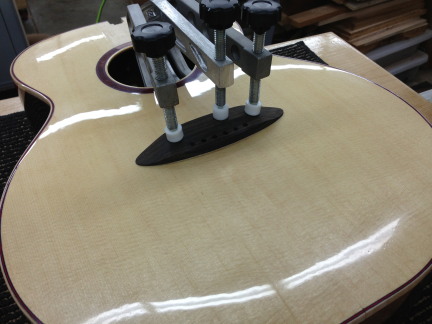 Fingerboard extension being glued down:
Saddle slot routing: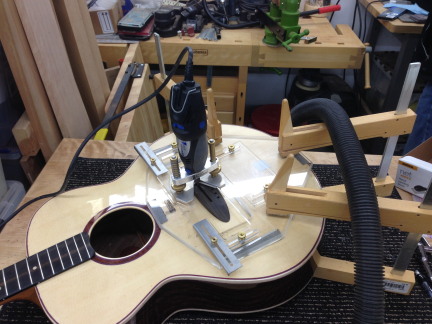 Tuners fitted: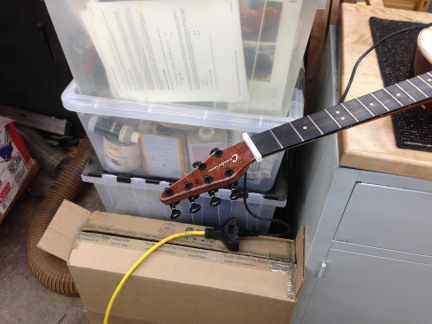 And here she is, (nearly) all done: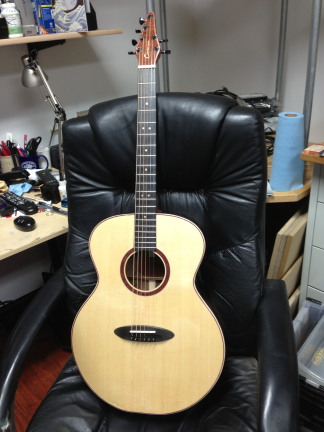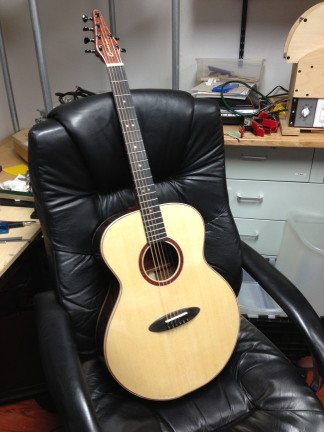 There were a few very minor flaws in the finish and one major one (on the headstock - I obviously sanded the edges of the headplates a bit too much at the gel filler stage and didn't see the problem until after the finish was on and UV'ed - DOH!!)
I took it along to the NCAL meeting and told the story of the $150 Challenge build and talked about some of the experimental features of the instrument.
Then, a real guitarist was kind enough to play it for us. It sounded "okay", but not outstanding. Tonally, it is a bit different from other guitars....(not really surprising!).
However, it had only been strung up about 12 hours before the show and tell, so I was expecting it to change....which luckily, it did! I took it into work on Monday and showed it to several of the outstanding guitar players we have there - they loved it, both the action, the sound, and the smooth arm bevel.
"Success!" I thought.....but, not so fast buddy!!......by the end of the day, it was obvious that the soundboard was NOT stiff enough to hold the string tension after all.....

The soundboard was collapsing from the sides of the soundhole to the top of the bridge.....the soundboard below the bridge remained almost in place, but the single center-line brace I'd put on it was beginning to telegraph through the soundboard at the bottom edge of the guitar!! EEK!!

Obviously, it needs some actual bracing - perhaps a modified X brace and/or a UTB above the soundhole. Rats!! I let the string tension off and brought it back to my workshop to cogitate on the problem....

Can I fix some braces in there without taking the top or back off???? After another day of pondering, I'm still not sure what to do about it......any ideas for me??
I'll put up a short partial video I managed to capture of the fellow playing it at the NCAL meeting tomorrow, when I have more time.
Cheers for now,
Dave F.
_________________
Cambrian Guitars
"There goes Mister Tic-Tac out the back with some bric-brac from the knick-knack rack"