Well it is not great photography, but here it is. I think most is self explanitory.
Binding and fret wire
Soundboard back.
Soundboard front.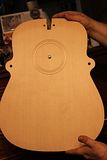 Kerfing, Braces, Heal and Tail blocks.
There were two packages enough for two guitars.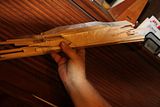 Back close up. It looks like there are waves in the wood.
Kind of like beach sand after the tide creats ridges.
Back set #1.
Back set #2.
2 sets of sides.
Finger board w/ binding and frets. MOP markers.
Head w/ flaw writen on tape.
I got the tenon and mortis. He also had dovetail for extra money.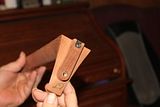 Neck and truss rod, there was 2 extra head plates like the one on this head.
Extra fret board.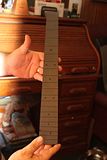 Well I rumaged through the box before tossing it...Very Glad I did. I found a third bag with 6 ea. Martin Machine heads, 3 ea. 5" bone saddles, 3 ea. bone nuts, 1 rosewood bridge and another 10' of kerfing. (kerfing is in 5"-10" pieces) 2 ea. nice figured head plates and 3 ea. bridge plates.

I think for A buck fifty I came out pretty good.
Do I need to take better pics?
Thanks,
_________________
Joe


My wife asks me

"How many Guitars do you need?"


I reply

"When I die count them; thats how many I needed".