Das Right Dudes,
your read it A1 ok the first time.
Its a
Quick and Dirty Twisted Classical Traveler Build
for me
Sweeties Birthday.
All ceder...Wishbone construction, booked faced, one piece back and top...that means the top is one piece and the back is one piece but that they are book faced or wood be if you could sees them both at the same times. Or you can think of them as consecutive slices of off a 50 year or so old cedar bolt me had hidden under the stairs for the last 10 years.
Banding is some sort of dark hog me found in me brothers stash. The head stock, fret board, tail piece are consecutive cuts out of a Padauk stick, including the heal cap.
Now this is the 12 year anniversary build for me sweeties birthday and sort commemorates our relationship...thats why its twisted

... and me do mean like way bent outta shape...but don't jump to the last pic to see what me meaning.
Ok those of you not familiar with me builds... tough...rummage around the site for some of me other build threads and sorry this is not a build thread but only parts of one. So here goes.
see...mirror image top and back...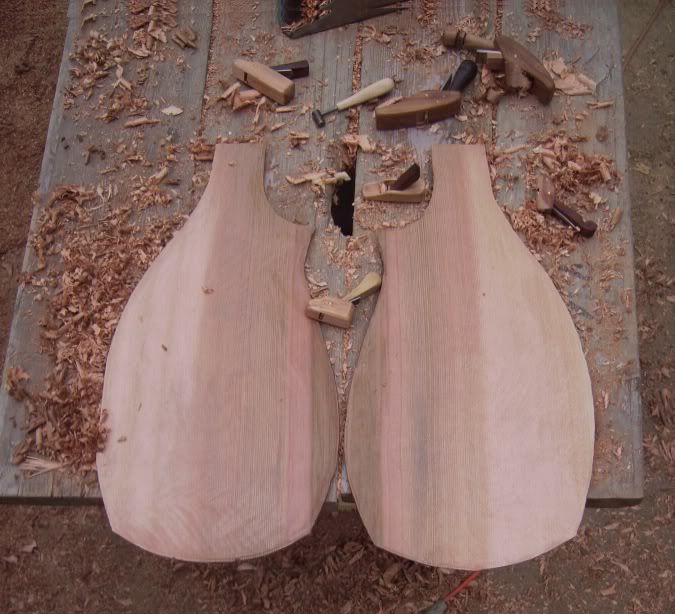 see ... carving of the 3D "f" holes...this part is easy...its hogging out the back while making an effort to keep a uniform 1/8 inch meat around that "f" hole. think about it.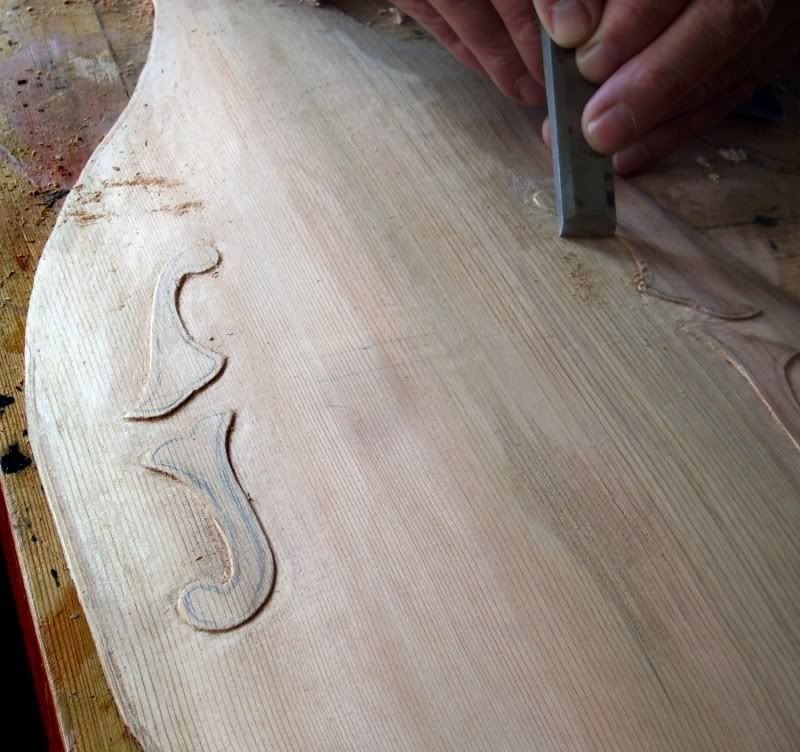 see...how me used violin design for the corner blocks and scabbed on some hog, which will show up in the ribs as part of the banding as opposed to a planted banding.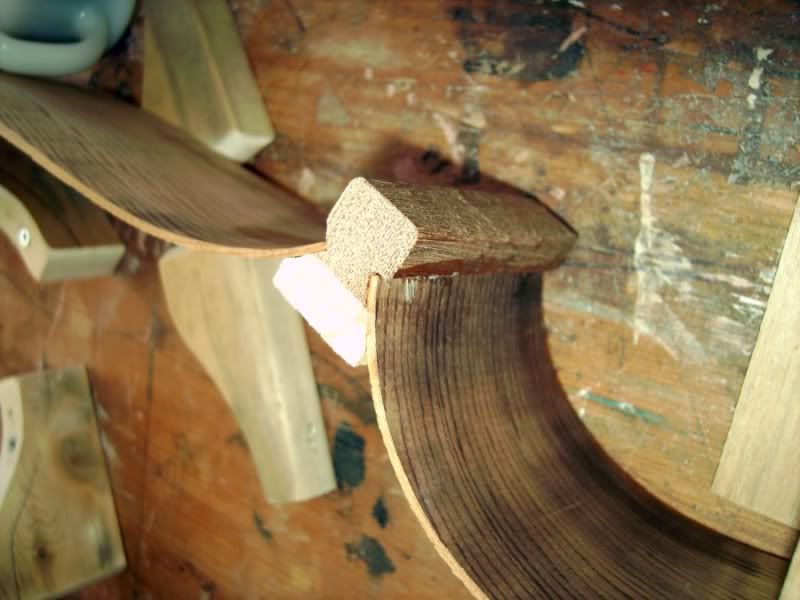 see...the gooing up of the various corner blocks...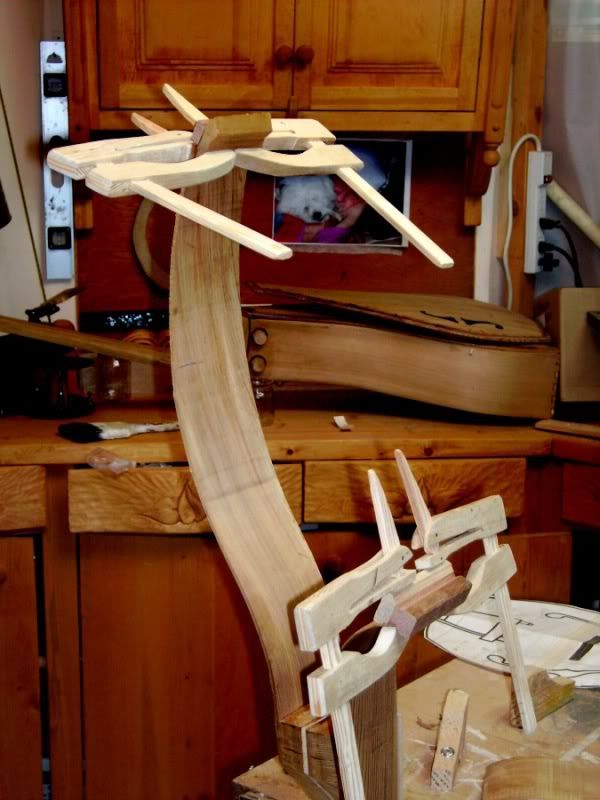 see...between the rabbit ears of the clamps, me lady friend watching me build her birfday present.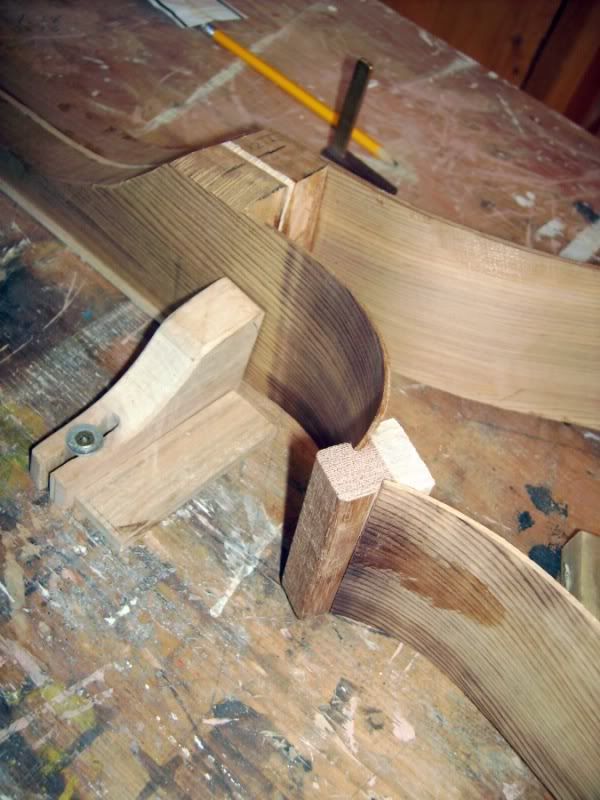 see....gooing of the hemp fabric around the "f'in" holes and if you take a good looker, see that the parallel bracing are not straight but sculpted with a bit of a curve away from each other where the bridge is. Also see that the edges of the "f"ers has been painted brown. Also note large tail block...need some weight to counter balance the tunners and some meat for the tail piece to mount on to. Also notice the pencil...very important tool in building.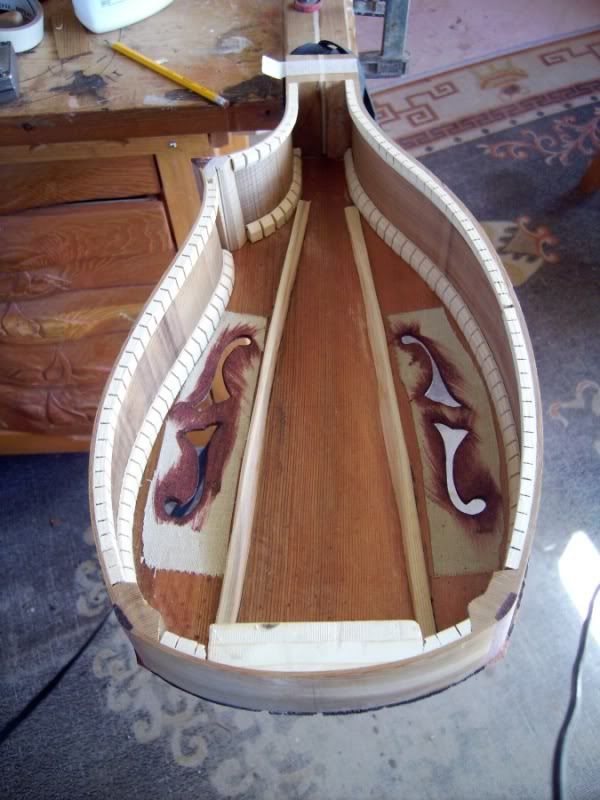 now in dis pic...you can start to see what me mean by "twisted"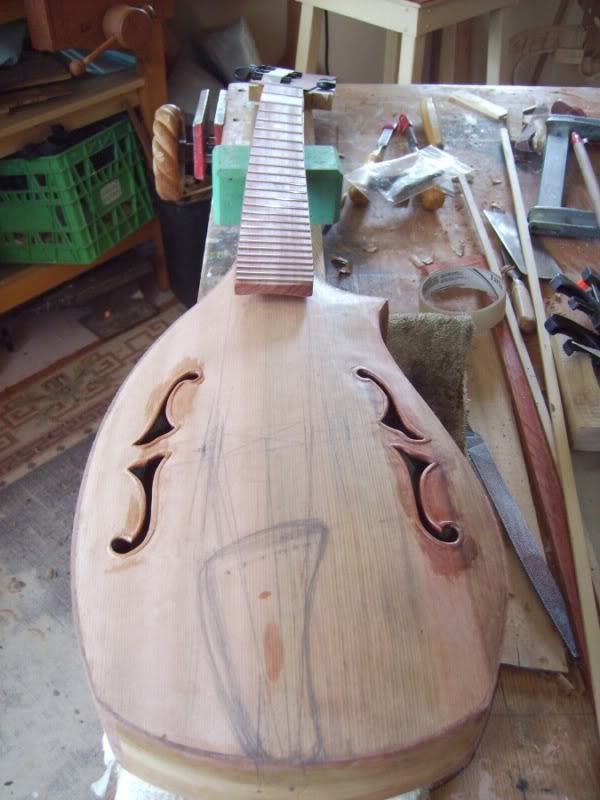 and finally in dis pic see the fand frets which add to the illusion of being a really bent outa shape, instrument. Note the sparkle of light on each fret and the ones that are out of "flow" ...this is a dead give away to the fact that they haven't been leveled yet.

common dudes...ya know ya just gotta love it. She does.
Pics when finished.

blessings

Padma