Back in the day the G*bson MK series was state of the art with unique bracing and the design resulted from a collaboration between Kasha and Richard Schneider. They had a genuine, imitation pl*stic.... sound hole..... thing..... that I believe was supposed to project like a trumpet.
Like many things in the guitar world it didn't work as envisioned, the guitars are widely considered to be pieces of crap.... and although they have their following it's just one more example of why attempting to reinvent the wheel before understanding more completely traditional guitar design tends to be a rather futile pursuit. Resistance is futile.....

. There are very good reasons why sound holes look like they do these days.
Don't mean to be a buzz kill but there is very little that has not been done prior in the guitar world.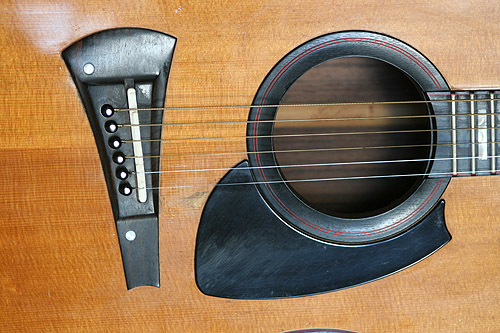 We have a collector who is a client and we work on several of the MKs from time to time. One of his still has vomit chunks and bong water stains from when he went to Michigan State University. Provenance..... they say....




The only thing I hate worse than a guitar with vomit in the sound hole is a Rikinbacker 12 string. I just doubled my pricing to set up the Rik 12's because they make me want to puke every time I have to work on them. What were they thinking....