JJ Donohue wrote:
I'm aware of the standard dovetail as well as the modified dovetail that Mario shows on his website. A tutorial on pulling off this joint would be really helpful.
JJ, here's how I make them: I use a straight tapered joint (as described by Siminoff in his "Bluegrass Mandolin" book, and I believe this is how Mario does it too). That means this end of the neck needs to get its final shape before it is glued in, which t is easy to do with a band saw and an edge sander; you can use hand tools too, of course. It is important that the neck matches the width of the fingerboard in this area, which must be slightly tapered (in section) to match the angle of the heel, or this part will not come out right. Have your fingerboard ready and make sure you know how these parts come together before you do this.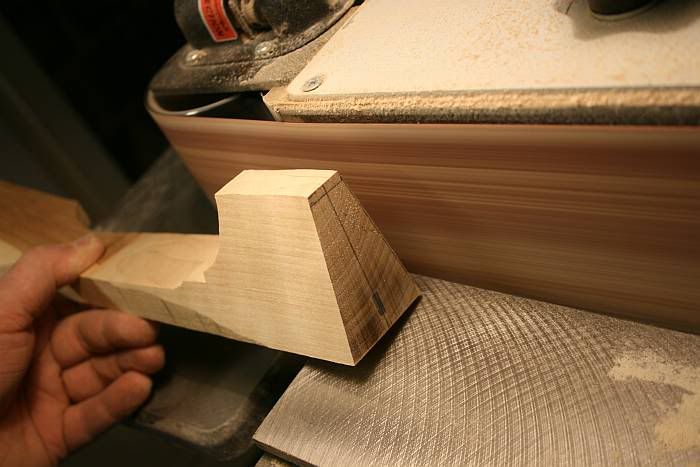 I saw out the mortise in the body and chisel out the waste. Here's how it looks, freshly sawn. After this, I use chisels and sanding sticks to get make the joint as nice and tight as possible.
The neck and body are glued up on a simple fixture that aligns them sideways, and it has a "cradle" that elevates the body the right distance for a proper bridge height.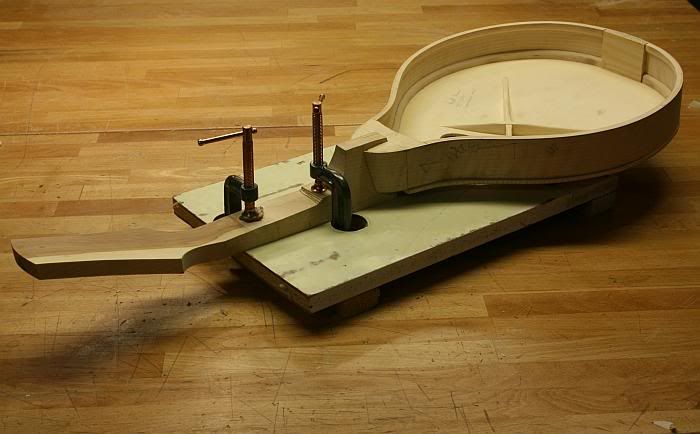 The heel part of the neck is trimmed level with the rim, and the neck is secured with a couple of plugs (in holes that are drilled straight down, to accommodate possible future removal), which are glued in. The plugs are sawn off before the back is glued on. Easy cheese! As you know, the traditional neck joint for these instruments is a dovetail. On the outside, this joint and the dovetail are difficult to tell apart if done well, except for the straight sides on the tapered joint; the dovetailed necks are often have an elegant concave shape on the side of the heel.
Here's why the neck and FB must macth; if not, a tiny part of the neck will be part of those little whatchamacallits that I'm rasping in the picture (what are they called, anyways?), and the glue line be visible both there and down along the side of heel.