I have a built in go bar deck I've shown many times before but will do again.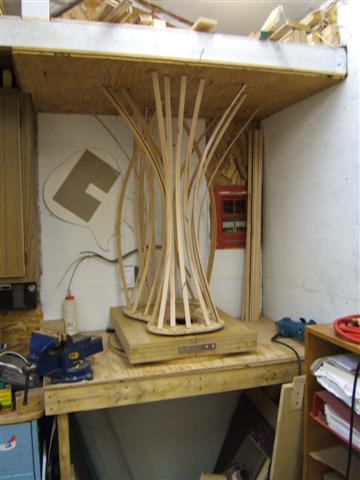 The nice thing with this design is that I don't need to store a separate go-bar deck somewhere and actually, I use the bench space for many other things (you can see my vice set there). This is a very inexpensive go-bar deck, it's all just scrape 2x4 and plywood for both the lower deck as well as for the loft above and it holds many other purposes other than just a go-bar deck. I highly recommend this style
I've taken many que's over the years from Mario, maybe it's my turn to name a guitar after him, but I don't want to call a guitar grumpy, it might not sound very good

(this is a joke of course)
I like Mario, use 3/4"x1/4" hardwood scrap. Actually, I have some fir pieces which don't excerpt as much pressure as the maple pieces I use in the picture there. The hardwood I have came from flooring scraps when my neighbour was putting down new maple flooring. I've not measured the force these bars put down, but they certainly do the job just fine.
Also like Mario, although I didn't get the idea from him but someone else I think, I stack MDF dishes to adjust the height of the deck.
_________________
My Facebook Guitar Page
"There's really no wrong way, as long as the results are what's desired." Charles Fox
"We have to constantly remind ourselves what we're doing....No Luthier is putting a man on the moon!" Harry Fleishman
"Generosity is always different in the eye of the person who didn't receive anything, but who wanted some." Waddy Thomson